Meet Your Pediatric Dentist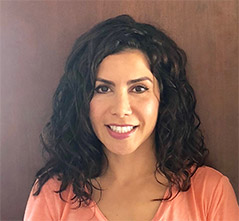 Dr. Norma Herrera
Dr. Norma Herrera received her Bachelor's degree from the University of California, Berkeley. She then went on to study Public Health at San Diego State University prior to graduating from the Howard University School of Dental Medicine. Next, she completed a General Practice Residency, followed by a Pediatric Dental Residency, at the Boston University Goldman School of Dental Medicine.
Dr. Herrera is a pediatric dentist with over ten years of experience in treating children ranging from infancy to young adulthood. She is dedicated to establishing a trusting and long-term relationship with both patients and their families, to ensure they are receiving oral health guidance and appropriate treatment early on.
In addition, Dr. Herrera speaks Spanish and enjoys practicing Portuguese. Favorite hobbies and pastimes of hers include being outdoors, reading, traveling and lifting weights. Furthermore, she also enjoys watching the Animal Channel, dancing salsa and working on her cooking skills.
Education
Boston University, Henry M. Goldman School of Dental Medicine, C.A.G.S. in Pediatric Dentistry
Howard University, College of Dentistry, D.D.S
San Diego State University, Graduate School of Public Health, MPH
University of California, Berkeley, B.A.
Volunteer Experience
Providing preventative and restorative dental care for children in rural areas in Guatemala
Outreach and education to the Head Start Program and elementary school in Texas
Oral exam screenings on children and oral health education to village teachers in Ethiopia
Licensure
American Academy of Pediatric Dentistry, Board Eligible
North Eastern Regional Board Examination
Registered to practice in MA and Texas
Professional Affiliations
American Dental Association, Member
Massachusetts Dental Society, Member
American Academy of Pediatric Dentistry, Member
---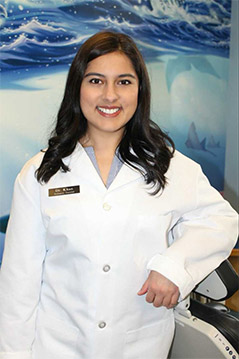 Dr. Khadija Khan
Dr. Khadija Khan is a pediatric dentist who strives to make each dental visit positive and enjoyable for every patient. She is passionate about creatively tailoring her approach to treating each child to create a welcoming and nurturing environment.
Dr. Khan graduated from Yale University with a Bachelor of Science Degree in Biomedical Engineering. She then attended dental school at the University of Connecticut School of Dental Medicine where she earned her DMD degree. Next, she went on to receive specialty training and completed her residency in pediatric dentistry at Stony Brook University in New York where she served as co-chief resident.
Dr. Khan has a passion for pediatric dentistry and is committed to her patients. She delivers the highest quality dental care in a fun and friendly environment.
When not practicing dentistry, Dr. Khan loves exploring new places, traveling, cooking and enjoying good food with family and friends. She loves all things Disney so you might find her singing her favorite tunes in the office!
Educational Background
Resident in Advanced Education Program in Pediatric Dentistry – SUNY Stony Brook University School of Dental Medicine – Stony Brook, NY
Doctor of Dental Medicine (DMD) University of Connecticut School of Dental Medicine – Farmington, CT
Bachelor of Science (Major Biomedical Engineering) – Yale University – New Haven, CT